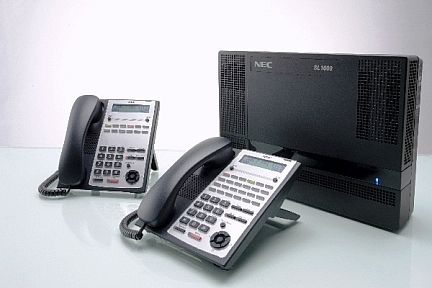 NEC SL1000 telephone system ia an intelligent cost effective telecommunication system that is equipped with capability to adapt functions for immediate and emerging business needs.
** Affordability
-Handy and useful functions

-Hybrid concept
Multiline terminal for single line telephone, facsimiles and more without complex settings.

-Scalable architecture
SL1000 Telephone system starts from 4 trunk lines and 8 extensions, scales up to 128 extensions (230 ports).

** Efficiency
-Productive communication
-Web-based manager


The terminal and system setting are easily customizable to suit the user's preference.
-Unique features
** IP Telephoney
-In line with global trend towards VoIP (Voice over Internet Protocol), SL1000 telephone system is IP-enabled, and provides 24-Key IP terminal, having the same usage as digital key telephone in the IP environment, with its IP benefits.
** Ecology
SL1000 telephone system uses less power consumption than most legacy systems. Telephone system consumes approximately 25% less power than previous models and reduces the total cost of ownership by minimizing the office electricity expense.

** Efficiency
-Increase efficiency by tapping on the built-in features such as Conference, Automated attendant, Call Forwarding and much more in the system for a productive office communication atmosphere.

NEC SL1000 Connection diagram
NEC SL1000 telephone models